A gang of masked thieves intentionally rammed into another driver on a Los Angeles freeway Tuesday then allegedly robbed him in a caught-on-camera heist pulled off in broad daylight.
The shocking footage captured by another driver shows a Dodge Grand Caravan pursuing a black Alfa Romeo traveling eastbound on I-10, also known as the Santa Monica Freeway, at about 1:30 p.m., west of Arlington Avenue.
The witness spots the chase in a lane to his right and can be heard in the footage saying "Let me catch up."
He tries to speed toward the cars, but they quickly advance. "They is gone," the man says. "My sh— ain't catching up. They swinging. They swinging."
CELEBRITY JEWELER TARGETED IN HIGH-TECH HEIST; THIEVES CAUGHT ON CAMERA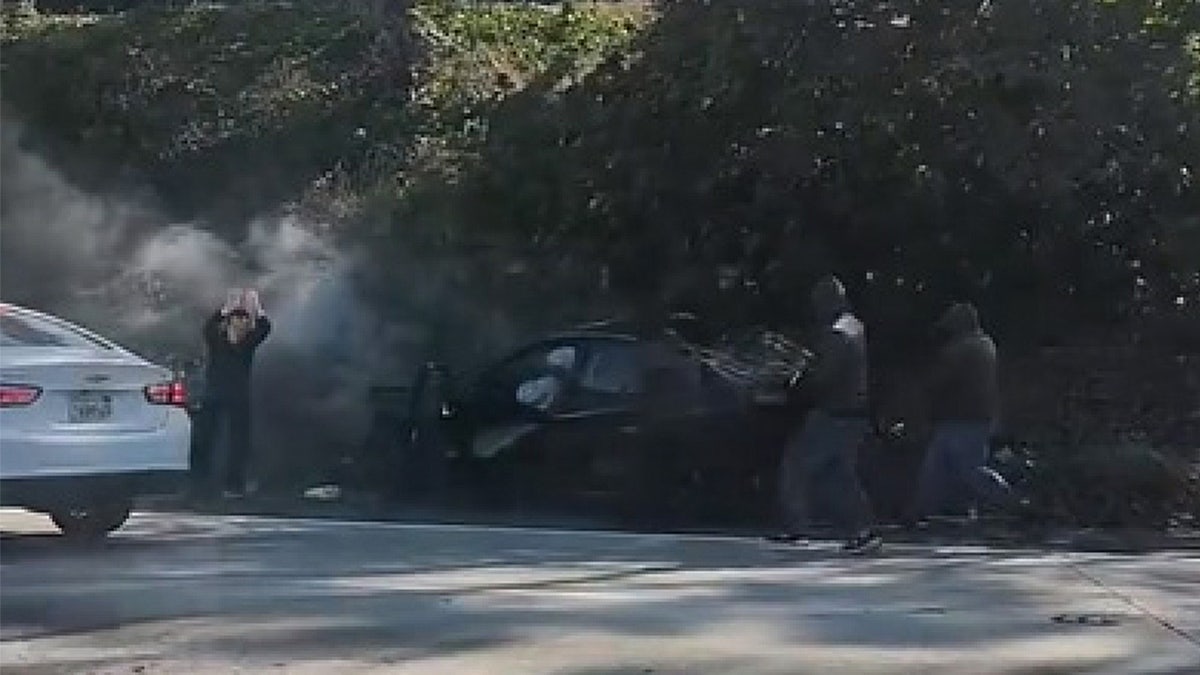 That's when the Dodge minivan rams the Alfa Romeo into the shoulder of the freeway in a scene worthy of a Hollywood stunt. "There he goes! There he goes! There he goes!" the videographer says as he approaches the collision.
Four men wearing ski masks and hoodies storm out of the minivan and rush toward the Alfa Romeo, whose driver-side door is open revealing a deployed airbag. 
The victim can be seen on his knees with his hands up in the air facing the passing cars. The bandits frantically rummage through his sedan and pop open the heavily dented trunk. The car's driver-side back window and tire are blown out.
WATCH VIDEO OF BRAZEN LA FREEWAY HEIST BY CREW OF THIEVES DONNING SKI MASKS
The men appear to be communicating with the victim, as another man, whose red Ford Mustang was also struck, can be seen recording the wild caper with his cellphone.
Meanwhile, trucks and cars can be seen slowing down to watch the incredible spectacle. 
About 40 seconds after the deliberate collision, the four men hop into a white Chevrolet Malibu, with heavily tinted windows, and flee.
"That fool took the exit!" the driver recording the bizarre freeway ambush says, referring to the Malibu. 
Witnesses who called 911 described the assailants as armed with guns, California Highway Patrol Officer Roberto Gomez told Fox News Digital.
'BIGFOOT' CAUGHT ON CAMERA DURING COUPLE'S ROMANTIC GETAWAY IN COLORADO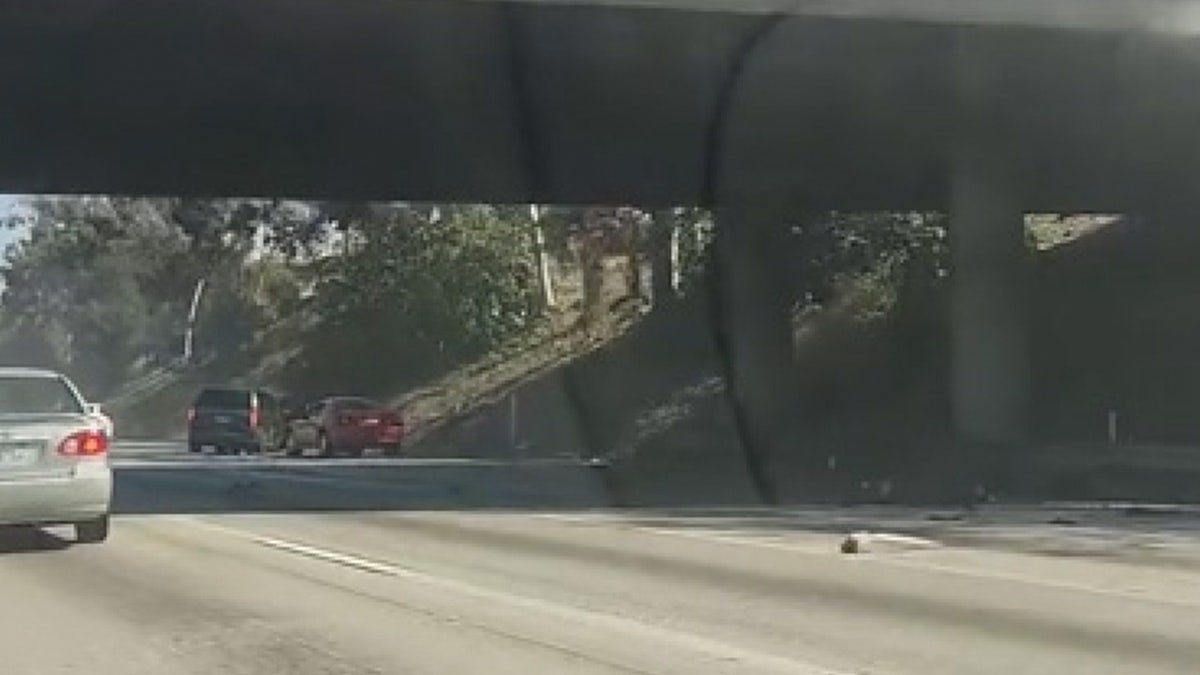 "Upon further investigation, we learned they were carrying hammers and crowbars," Gomez added. 
He declined to comment on whether the men made off with any valuables during the attack, which he described as a vehicular assault and armed robbery.
He also wouldn't disclose any details about the victim, including his profession.
"That's part of the investigation," Gomez said. 
The California Highway Patrol Southern Division Major Crimes Unit urges anyone with information about the crime to call 323-644-9550.
Fox News Digital's Julia Bonavita and Mitch Picasso contributed to this report.